With wedding, prom, and party season almost here, let's look at "sparklies" that don't cost a fortune. From chokers and necklaces with dangling bits of adornment to earrings and bracelets, vintage rhinestone jewelry is always in style.


But, have you ever wondered just what rhinestones are, or how long they've been used in jewelry? Well, I have, so I set out to learn more. An in-depth history would be too much for a blog, but here are some key points:


What we call rhinestones have been used, in some form, for hundreds of years. The royal and the wealthy would have copies of their genuine gemstone jewelry made up to wear out in public; if they were stolen, the real articles would still be safe. Probably the term most of us have heard to describe these older imitations of precious and semi-precious stones is "paste." Paste gems were made of molded, faceted glass with a high lead content and backed with a metallic lining. These reflected light and, to a layman's eye, sparkled like the real thing.


As time went on, the process of making imitation gems was refined. For example, early paste jewels were faceted during the molding process. Later, the glass was hand cut into faceted form for better quality, but this was extremely time consuming. In the late 1800s came the breakthrough that led to the modern rhinestone. Daniel Swarovski of Austria patented a glass-cutting machine that produced faceted crystals with more precision and with lightening speed. In the early 1900s, he began using glass with 32% lead content, resulting in stones that were far superior to prior types.


Rhinestones have evolved to include not only foiled stones, but those with "silvered" or mirrored backings and unbacked stones in open settings. The terms Swarovski crystal, Austrian crystal, diamante, Strass (after George Stras, a jeweler who worked in Paris in the 1700s and who produced very popular paste stones), and paste are used to describe more or less the same product, although the latter two are associated with older stones. There are many more descriptive terms as well. In the U.S., these imitation gems are usually called "rhinestones," after the Rhine River region of Germany, where natural quartz stones that sparkled with color were taken from the riverbed. Once these were depleted, glass imitations were offered for the souvenir trade.


One of the last key developments in rhinestone manufacturing was the invention of the Aurora Borealis (AB) crystal. In 1956 (some say 1955; the Swarovski web site says 1956), Swarovski, working in concert with Christian Dior, perfected a metallic chemical coating process that gives the crystals a shimmering, rainbow-colored appearance. Most vintage AB pieces were made from that time to about the mid 60s, then fell out of favor. They since have regained popularity.


We here at Reflections of Vintage would like to share some of our rhinestone pieces with you!


Vintage Art Deco Blue Rhinestone Dress Clip, Earrings
from
Vintage Baubles Too
: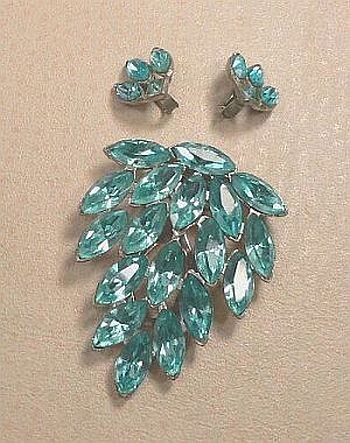 Vintage Art Deco Sterling Box Set Emerald Green and Clear Rhinestone Tennis Bracelet
from
After Dark Vintage
Vintage Signed WEISS 3-D Pierced Tiered 3-D Double Leaf Brushed Gold Tone Earrings Accented with Blue and Green Pave Set Rhinestones
from
Catseye Vintage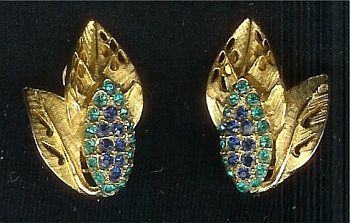 Vintage 1930s Art Deco Pot Metal Rhinestone Brooch / Pin
from
Vintage Baubles Too
: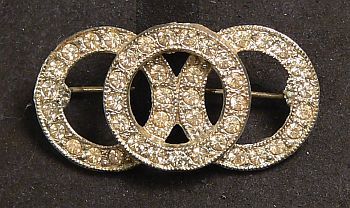 Elegant Vintage Black Enamel and Clear Rhinestone Brooch Made in Austria
from
After Dark Vintage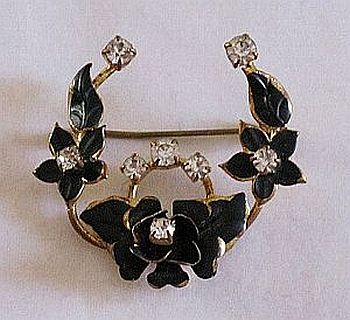 Vintage 40s 50s Kramer Signed 3-D Dangling Blue Aurora Borealis AB Rhinestone and Crystal Earrings
from
Catseye Vintage
: