Last time your fabric junkie (me) talked about polyester, that much-maligned, often justly, fabric whose use became common about the mid 60s, and really hit stride starting in the early 70s. We showed some classic, upscale examples of designer poly-knit pieces, but today we have some everyday pieces; some designer items that are, shall we say, a bit more "70's trendy"; and some uses that had been primarily the domain of fabrics such as silk, rayon, acetate, and nylon.
1970's polyester lent itself incredibly well to the wild prints, bright (some would say "loud") colors, and outlandish styles of the 70s. The skirts of maxi dresses draped nicely when done in a good poly knit, wide collars laid softly on the bodice, and screen prints took well to poly knits. Polyester can be knitted into textures such as linen, crepe, jacquard, and fine sweater-style weaves; these can add a lot of interest to a piece. Here are some that exemplify the era of 70's polyester, some for better, and some for worse. And be sure to see our note below about a cool contest!
Mid-range makers used a lot of poly knits and some woven polys, but often "dressed" them up with an interesting weave and/or design elements or embellishments. These dresses, a knit maxi with corset-vest overlay and pastel green knit dress, with linen texture and lace appliqués, and are great examples: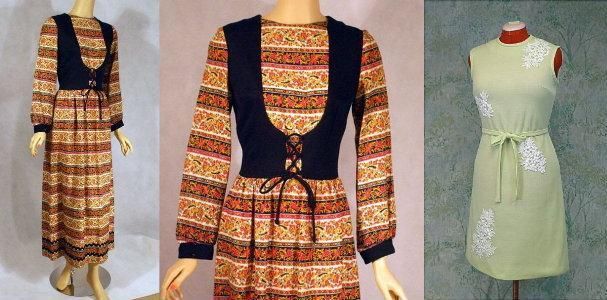 Gay Gibson maxi dress
at Alley Cats Vintage and
R & K dress
from My Vintage Cocktail
And, speaking of wide collars and maxi dresses, here's a woven-poly maxi dress in an exotic colorway:
Diolan maxi dress
from Love Train Vintage
Not only do these two knit dresses feature big collars, but both have zip fronts and fabulous prints, and are in desirable large sizes:
(top)
Screen-printed dress
available from My Vintage Cocktail
(bottom)
Atomic-print
dress
sold recently at Catseye Vintage
It seems that their well-known designers fell into merely following the trends with these dresses (as many designers did). Not that they aren't nice, but we would expect more drama and originality from these labels! (But these are two opportunities to pick up desirable labels at fantastic prices.)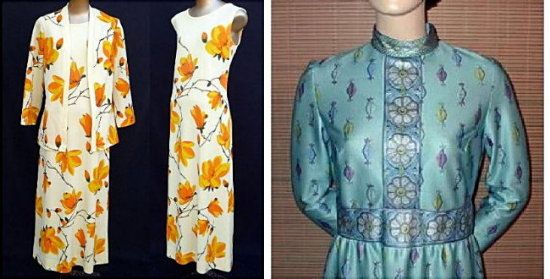 (left)
Alfred Shaheen maxi dress and jacket
from Glamour Girl Vintage
(right)
Emilio Borghese maxi dress
from Love Train Vintage
The 70's also ushered in the widespread use of polyester in lingerie, a trend that continues today. Woven poly can mimic rayon or silk satin, as well as different types of silk, and taffeta. It gave a new dimension to traditional lingerie! Here are two lovely examples: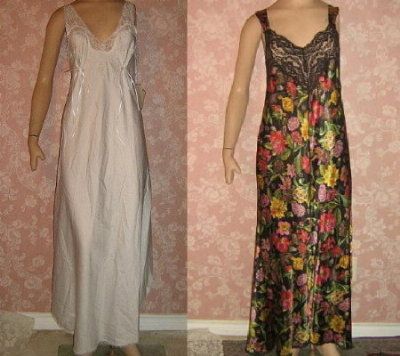 (left)
Barbizon satin nightgown
from Vintage Pretties
Bias-cut Vanity Fair satin nightgown
from Vintage Pretties
Watch for more fabric discussions from The Fabric Junkie! In the meantime, here our our final poly pieces, epitomizing what most people think of when they think of 60's and 70's polyester.
The wide poly ties, well what can we say? They're butt ugly (though we think the one on the right is pretty cool, it's pretty awful, too), infamously unique to the era. And the dress has it "all": brown and orange colorway; two, not one, crazy prints; tie collar… a quintessential 1970's polyester knit dress.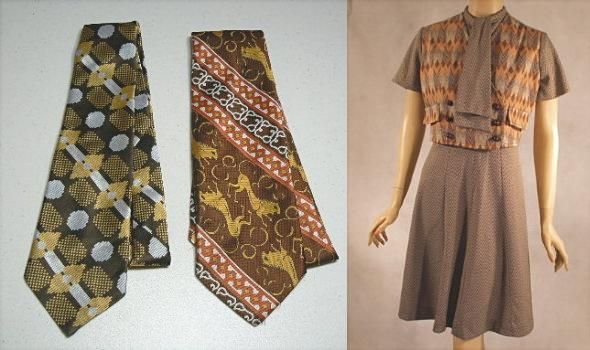 Ties coming, eventually, to
My Vintage Cocktail
Two-tone brown poly dress
now at Alley Cats Vintage
We'll also leave you with this fun tidbit: Singer/musician Jackson Browne and his pal David Lindley, currently on tour, have created a campaign, "Show Me the Polyester," asking fans to submit photos of themselves wearing polyester. The best dressed (or worst, depending on your POV) wins a trip and two front-row seats to see the duo's September 14 concert at New York's Beacon Theatre. Check it out at
Show Me the Polyester