In the late 50s and early to mid-60s, many jewelry companies designed and manufactured various pieces of jewelry, including necklaces, bracelets, earrings, and brooches out of thermoset lucite in a rainbow of colors. The most prolific manufacturers were Coro and Lisner, however there are also many unsigned pieces.

Many of these pieces are highly collectible today, particularly signed pieces, those in unusual colors, and parure sets which include matching necklaces, bracelets, earrings, and brooches.

Thermoset is a form of lucite which has been molded into interesting flat bottomed cabochon shapes such as leaves, squares, circles and ovals. The cabochons were then placed in metal settings, most often open backed with curved shapes creating lovely jewelry.

Thermoset lucite jewelry is wonderful for any time of the year but their light weight and bright or pastel colors make them perfect for wear with Summer time fashions, including these available from Catseye Vintage and Vintage Baubles.

Vintage 50s 60s Lavender Thermoset Lucite Leaf Statement Choker Necklace and Bracelet and Earrings Parure Set from
CATSEYE VINTAGE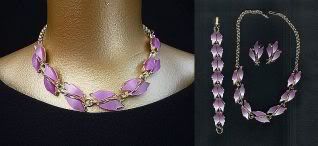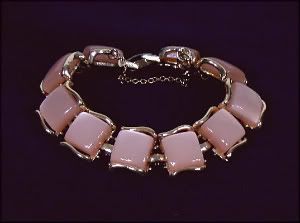 Vintage
50s 60s Designer CORO Jade Green Thermoset Lucite Statement Choker Necklace and Earrings Demi Parure Set from
CATSEYE VINTAGE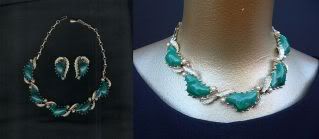 Vintage 50s 60s Blue and Aqua Thermoset Lucite Statement Choker Necklace and Earrings Demi Parure Set - Mint on Original Card from
CATSEYE VINTAGE