1930's *ART SILK* Rayon MINT Condition, MUSEUM QUALITY Extraordinary ULTRA RARE Sheer Vintage Nightgown.
Available only at
Sweet Cherry Vintage
You automatically think... HARLOW..GARBO...COLBERT...CRAWFORD...LOMBARD. You know who I am talking about. The SILVER SCREEN MOVIE MAIDENS of the OLD HOLLYWOOD GLAMOR DAYS
.
What a fabulous treat I have for your lingerie collection and a true little treasure to cherish for many years to come. A welcome addition to your vintage lingerie boudoir!


The color is what I describe as SHEEREST BLACK (color may vary from monitor to monitor), and created in 100% rayon, and what the vintage textile industry dubbed as "Art Silk" as artificial silk. This has I am pretty sure cotton lace design, ultra GLAM bias cut and bias at the hemline for that FISHTAIL MERMAID appearance. Vintage items are rarely flawless and most have normal to little wear, minor picks/pulls in areas or a small age discoloration spot or two etc. This particular beautiful piece has NO FLAWS, IN MINT CONDITION, MUSEUM QUALITY.
Fashion from the 1930s ... the 1930's is an interesting period, both stylistically and historically.... of course history, fashion and style are all integrally related.
Generally fashions of the 1930s are thought of as glamorous and sensuous. This is the era of the big bands, dancing and night life.
The dresses are long and elegant, evening gowns were often backless and importantly there develops a very distinct difference between day-wear and evening wear.
Hollywood and the movies also begin to be very influential to the fashion industry as people wanted to wear the styles they had seen on the screen.
The French designer Madeleine Vionnet opened her own fashion house in 1912. She devised methods of bias cross cutting during the 1920s using a miniature model. She made popular the halter neck and the cowl neck.
The bias method has often been used to add a flirtatious and elegant quality to clothes. To make a piece of fabric hang and drape in sinuous folds and stretch over the round contours of the body, fabric pattern pieces can be cut not on the straight grain, but at an angle of 45 degrees.
It is sometimes said that Vionnet invented bias cutting, but historical evidence suggests that close fitting gowns and veils of the medieval period were made with cross cut fabrics. The Edwardians also made skirts that swayed to the back by joining a bias edge to a straight grain edge and the result was a pull to the back that formed the trained skirt. She did really popularize it and the resulting clothes are styles we forever associate with movie goddesses and dancers like Ginger Rogers.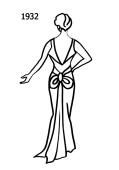 Using her technique designers were able to produce magnificent gowns in satins, crepe-de-chines, silks, crepes and chiffons by cross cutting the fabric, creating a flare and fluidity of drapery that other methods could not achieve. Many of the gowns could be slipped over the head and came alive when put on the human form. Some evening garments made women look like Grecian goddesses whilst others made them look like half naked sexy vamps. Certain of her gowns still look quite contemporary.
There was a passion for sunbathing. Women tried to get tans and then show them off under full length backless evening dresses cut on the true cross or bias and which molded to the body. To show off the styles a slim figure was essential and that was getting easier for women who were educated and aware as many now used contraception and did not have to bear baby after baby unless desired.
Courtesy fashion-era.com