One of the most successful ways to incorporate vintage into your contemporary wardrobe, and have it all look great together, is by adding some small beaded bags and purses. Popular across all eras, these bags are always in style. For this summer season of weddings, cruises and parties, and for the fall and winter holiday season, you'll find a vintage beaded bag that will go with almost anything!
Brides will appreciate a vintage bag to carry to the reception--as will their guests. The small, but utilitarian, sizing carries your essentials so you don't have to lug a heavy-looking or bulky bag to a dressy occasion. Of course, your "essentials" would be your compact, lipstick, small comb, vanity mirror, driver's license, some cash and a credit card--not your cell phone, iPod, and/or various other devices and work-related items! Although many will indeed fit a cell phone. These bags often include a coin purse that will fit folded cash as well as some change.
The smaller ones travel well, so if you're going out of town for a wedding or other event, they pack easily. I took one with me to Vegas last year for a wedding, and while many of the other guests were toting their big street bags, my little blue-plastic beaded Hong Kong bag (which wasn't overly dressy) looked perfect with my contemporary blue-and-white dress, and garnered lots of compliments!
I find that the hand-beaded bags of the 50s and early 60s go nicely with today's fashions. Upscale boutiques are showing fancy beaded bags in similar styles these days, but, in my opinion, you do not get the same quality--meticulous hand beading, hand-sewn linings, high-quality fabrics, etc. (Unless, of course, you can spend a small fortune! I saw some at a boutique recently from $65 to well more than $100, yet you can get much better value in a vintage one.)


There are many brands that epitomize the vintage beaded bag: Walborg and Magid come to my mind immediately. But others such as Delill and Simon, along with generically labeled bags from Hong Kong, Japan, Italy, Belgium, etc., are just as wonderful. In older bags, Czech glass-beaded ones are very popular collectors' items. Bags can feature creamy pearl or seed-pearl beads, clear or colored glass beads in round or barrel shapes, metallic beads, and small plastic beads. Casual styles can feature wood or large plastic beads, but our selections this week focus on the dressier styles.
Here is a
Small Clutch with Hand Strap
from the upscale John Wanamaker stores (now, sadly, defunct) for carrying while you dance; a brilliant idea and SO handy, since you needn't leave your bag at the table unattended: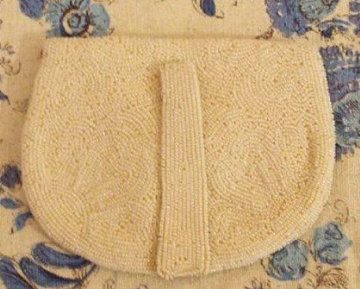 This small Walborg Pouch-Style Bag can be carried via its chain, or the chain tucked in and the bag folded to be carried as a petite foldover clutch: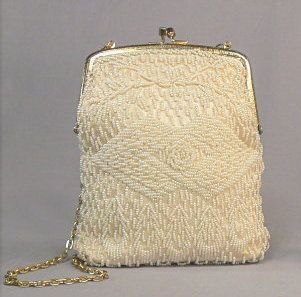 A Fancy Clutch by Simon features Aurora Borealis sequins along with beads:
This Wee Little Clutch by Debbie has a zippered top and a Deco-looking design: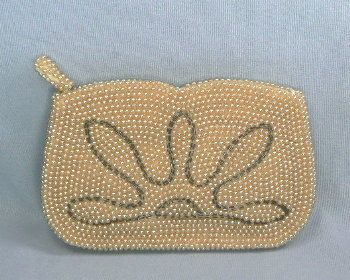 And while this Adorable Pink Purse by Simon is not as formal as the others, its pink color and small size make it party perfect, and a great bag to carry out to dinner on the patio of your favorite "al-fresco" dining establishment!