Everyone knows that Mother's Day is this Sunday, May 9th, but do you know the history of Mother's Day?
Celebrating motherhood is a historical tradition that goes back to the ancient Greeks, who honored Rhea, the mother of all gods, and the ancient Romans who honored their mother goddess, Cybele.
In the United States, a campaign for a national day to honor mothers was launched in 1907 by Anna Jarvis who handed out white carnations to members of her mother's church in Grafton, West Virginia. In 1908, the church began holding a special Sunday service in honor of mothers -- by the following year, the tradition had spread to churches in 46 states.
In 1909, Anna left her job and dedicated herself to a full-time letter-writing campaign, imploring politicians, clergymen and civic leaders to institute a national day for mothers.
In 1912, Jarvis' efforts met with success: Her home state of West Virginia adopted an official Mother's Day; two years later, the U.S. Congress passed a Joint Resolution, signed by President Wilson, establishing a national Mother's Day emphasizing the role of women in their families. Ever since, Mother's Day has been celebrated by Americans on the second Sunday in May.
Today, we celebrate and honor our mothers with cards, dinner or lunch at a nice restaurant and gifts such as vintage robes, jewelry or vanity items such as shown below.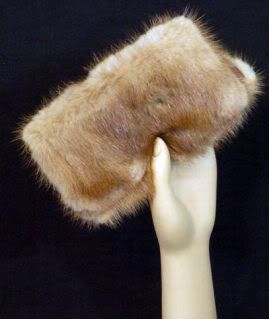 Vintage Volupte' Gold Tone Chevron Pattern Compact with Original Box from
LOVE TRAIN VINTAGE
Vintage AB Rhinestone & Plastic Large Butterfly Brooch w/Faux Pearl from
A & J ESOTERICA
Vintage 50s 60s Signed Designer ROBERT MANDLE Figural 3-D Pewter Elf and Mushroom Brooch from
CATSEYE VINTAGE
Vintage 1950s Gold Metal Basketweave Purse with Lucite Top and Handles by Dorset Rex 5th Avenue from
ALLEY CATS VINTAGE
Vintage 1970s Pink Gingham Butterfly Hostess Lounging Robe NWOT B42 W42 H44 from
LOVE TRAIN VINTAGE
Vintage 1940's Art Deco Loran-Sim Gold Filled Earrings from
A & J ESOTERICA
Vintage 50s 60s Hand Painted and Gilded Fragonard Courting Couple Porcelain Footed and Hinged Trinket Jewelry Dresser Box from
CATSEYE AT HOME
Some information courtesy of The Holiday Spot.com.