by Anne of A&J Esoteria
Late last year, I stumbled across a small lot of vintage silver jewelry being offered at on online auction (not eBay!). I've collected and sold vintage jewelry for years, but had no overriding interest in sterling until discovering one of those obscure treasures we all hunt for (a brooch by Graziella Laffi, Peruvian equivalent to Mexico's William Spratling). So, with a new appetite for sterling, I took a risk and bid on the lot, which was not well pictured or described in the auction. While my winning bid was not "cheap, cheap," I was satisfied, pending inspection in person. When my package arrived, I was taken aback by the beauty and workmanship of this set: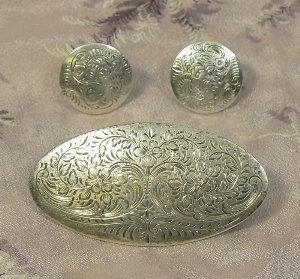 Imagine my delight when I realized these carried a maker's mark (likely rendering them more valuable), albeit one unknown to my relatively inexperienced eyes.

I embarked on a mission to find out who had manufactured these pieces. After hours and hours of looking online, typing into search engines myriad guesses as to exactly what this mark represented, eureka--I found it! The mark (a hammer and wings; I don't know why I didn't "see" it immediately) was that of the Gaylord Silvercraft shop, Wallingford, Ct. But, their story isn't one of "just" a silver-crafting operation, it's an uplifting tale of art as rehabilitation. The workshop was part of the Gaylord Farm Sanitarium for tuberculosis patients, run by the New Haven County Anti-Tuberculosis Association. Founded circa 1902, an interesting tidbit of its history is that playwright Eugene O'Neill was a patient there in 1912. Many veterans of WWI were also treated at Gaylord.

Gaylord Silvercraft was established in the early 1920s as part of the sanitarium's vocational training and occupational therapy, a means by which recovering patients could learn a skill. It was initially funded by the Federal Board for Vocational Education, and when funding ceased, Gaylord's board continued the venture, believing that the silverwork would pay for itself. Mr. and Mrs. William Waldo Dodge, Jr. of Meriden, Ct., were engaged to help develop the workshop at this juncture. Mr. Dodge was a WWI serviceman and former Gaylord patient who became a noted designer of silver pieces and, later, a well-known architect. Many of his designs were crafted into reality in the workshop. (Work from his own studio is very rare, as he eventually concentrated on architecture.) The Gaylord Silvercraft Workshop operated from about 1923 until 1944. Gaylord Sanitarium exists today as the Gaylord Hospital, providing therapy and rehabilitation services to patients with a wide range of conditions.

Historical records indicate the workshop produced about 140 types of pieces, and about 29,000 pieces in total during its lifetime. They can be sturdy-looking hammered pieces, finely engraved designs, and/or pieces with intricate openwork. All are hand wrought. Apparently the majority of the pieces overall were table silverware and serving items, while the majority of its jewelry pieces were bracelets. Based on what I've read and seen, I believe the set I had is extremely rare. I have never seen earrings, and know of nobody who has, although they were indeed made. If you ever find a piece of Gaylord Silvercraft, no matter what it is, buy it! (And I had better go take another look at the balance of that lot I won to see if there are any more gems in there--no more Gaylord, though, I'm afraid....)

Perhaps the best part of my new acquaintance with Gaylord Silvercraft is that, in one of those serendipitous circumstances that sometimes happen in this business, the set, which was listed on A & J Esoterica at Ruby Lane, was sold to a woman whose grandmother had been a patient at Gaylord! In discussing with her the work done there, I discovered that pins depicting popular cartoon characters of the day had been produced. I'm fortunate enough to have been, during the course of my research, in contact with Cathy Gordon, jewelry expert, collector, and author. I was thrilled when she sent me a photo of a cartoon piece she has!

Many thanks to Cathy for allowing me to use the following three photos here:

Old King Cole pin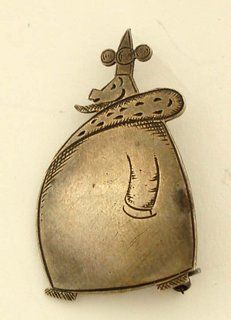 Hammered-link bracelet and salt spoon
Bon-bon spoon with hammered handle
Note: I've compiled this information from numerous publicly available sources, and have cross-checked information as possible for accuracy. I have not lifted verbatim from any source; the organization of the material and writing is mine.