The color peach has been popular for use in clothing since the 1920s and 1930s when it was used for the gorgeous silk and rayon lingerie of the period, and has resurfaced again and again throughout the years.

Peach combines pink and orange colors and ranges from the palest pastel shades to bold vibrant shades. This color is named for the pale color of the peach fruit. Like the color apricot, the color called peach is paler than most actual peach fruits and seems to have been formulated primarily to create a pastel palette of colors for clothing and interior design. Peach can also be described as pale orange.

The word "peach" comes from the Middle English peche, derived from Middle French, in turn derived from Latin persica, i.e., the fruit from Persia. In actuality, the ultimate origin of the peach fruit was from China.

Peach was often used in interior design for wall colors and mirrors during the Art Deco period, then again in the 1950s and 1960s mid century modern era - most often with turquoise.

In Chinese culture the color peach represents immortality.

Peach is a great color for year round wear, but especially in the late Spring and Summer evoking memories and images of fresh ripened peaches and peach ice creme and sherbet.
Vintage 40s 50s Designer Plutzer Prize Iridescent Peach Jacquard Taffeta Full Skirted Cocktail Party Dress from
CATSEYE VINTAGE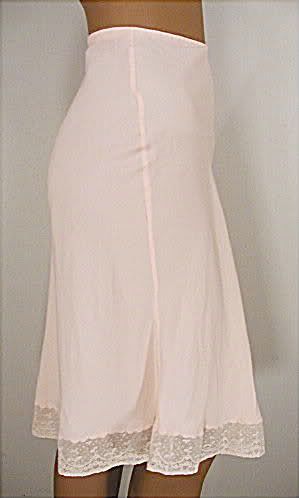 Vintage 1970s Peach Cotton Gauze and Lace Maxi Dress with Matching Bolero Jacket from
CATSEYE VINTAGE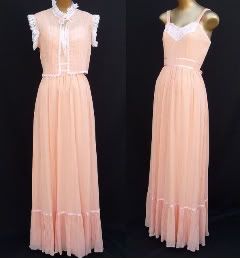 Vintage 1960s Yellow Peach and Cream Swirled Turban Cloche Style Hat Recently Sold by
ALLEY CATS VINTAGE
Some information courtesy of Wikipedia.