Alfred Shaheen was one of the premier makers of Hawaiian wear from the time he opened his first shop in 1952 until his retirement in 1988.
Shaheen built a Hawaii-based empire that earned him millions and put his unique aloha shirts and dresses on the backs of people all over the world. He brought mass production of textile printing and clothing manufacturing to the Islands and employed hundreds of workers.
Shaheen was born in New Jersey in 1922. He graduated from Whittier College with an engineering degree and spent the World War II years as a fighter pilot in Europe.
After the war, Shaheen moved to Honolulu, where his family had relocated in 1938 after opening a custom dress-making business.
Shaheen decided to open his own aloha shirt manufacturing company in 1948 — Shaheen's of Honolulu. At first he had four sewing machines and four seamstresses who had been taught by his mother. At the time, Hawaiian shirt manufacturers would import fabrics which they cut and sewed into their own designs.
In 1952, Shaheen opened his own fabric printing factory - Surf 'n Sand Hand Prints. All screening was done by hand with workers being instructed to force more ink onto the fabric which created deep rich colors.
Soon Alfred Shaheen's Hawaiian shirts and women's dresses were sold in mainland stores and in Europe. He later opened a chain of stores in Hawaii where celebrities and tourists shopped bringing his shirts and dresses back from their travels.
In 2001, the state of Hawaii recognized Shaheen for his contributions to the state with a Lifetime Achievement Award. In 2006, the Honolulu Advertiser named him one of the 150 most influential people, events and institutions to effect social, economic, political and cultural change in Hawaii from 1856 onward.
Alfred Shaheen in the Early Years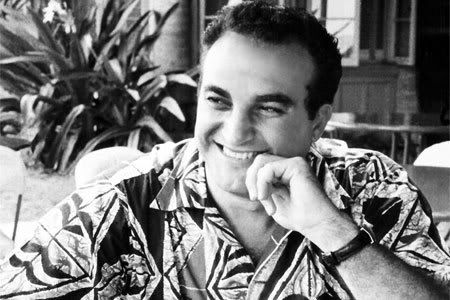 Elvis Presley wore shirts by Alfred Shaheen in the movie Blue Hawaii and on the album cover of the same name
Today, Alfred Shaheen's daughter Camille Shaheen-Tunberg owns the rights to his designs, some of which she licenses to designer Reyn Spooner who has created reinterpretations of original textile designs from the 1950s and 1960s.
Ms. Shaheen-Tunberg has collected many of her father's original garments and owns the rights to the Alfred Shaheen website.
Today, Alfred Shaheen's vintage sundresses, sarongs, playsuits, and men's shirts are highly sought after and are prized possessions in many collections of vintage Hawaiian wear.

We currently have the following 70s era Shaheen's available at
CATSEYE VINTAGE on Etsy:
Vintage 70s Alfred Shaheen Maxi Dress With Matching Jacket from
CATSEYE VINTAGE:

Vintage 70s Alfred Shaheen Royal Blue Screen Printed Hawaiian Dress from
CATSEYE VINTAGE:

(Some information courtesy of Investors Business Daily, The Hawaiian Shirt Monarch,
article dated 03/05/2009 and The Honolulu Advertiser, Alfred Shaheen - Giant of Garment Industry dated 12/25/2008.)