Hi, everybody -
I have to say, I am very pleased at how well my vintage sale went. Women streamed in and out of my apartment, mostly on that rainy Friday afternoon, but there were quite a few buyers in on Saturday. I unloaded a bunch of merchandise and made a lot of women very happy. That makes me very happy.
This was my front room set up for the sale on Friday, from two sides: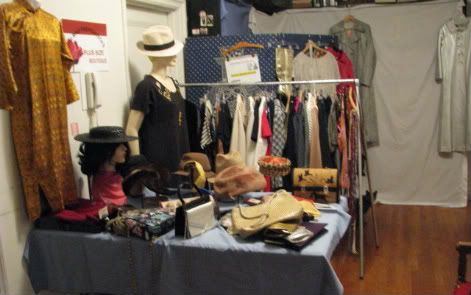 In the above picture, you can see the "cheap stuff" rack, where everything was $5 - $15. That rack was absolutely pillaged!
In the living room there was a large professional rack full of merchandise, as well as a costume jewelry table and a sofa loaded with handbags. David Owens, who owns a vintage store here in New York by the same name, asked his wonderful wife Linda to help me out. She was invaluable!
So now the apartment is an incredible mess, with bins and boxes everywhere. But I will do it again in September!
Once an idiot, always an idiot.