This is a multi-poster blog about vintage clothing, retro life, collecting, buying and selling vintage clothing, vintage clothing history, and personal stories about vintage.
Tuesday, June 30, 2009
Making room for more vintage with Fall shopping season around the corner! I've started marking down pieces on the website to $50 and will be regularly adding to that list, so check back often! These beauties are now $50 and with luck, several more will be today (I'll update the blog and
TWITTER
as I go)....
Today, a few fantastic 40s day dresses in cool green prints, done in a crisp cotton...perfect for summer!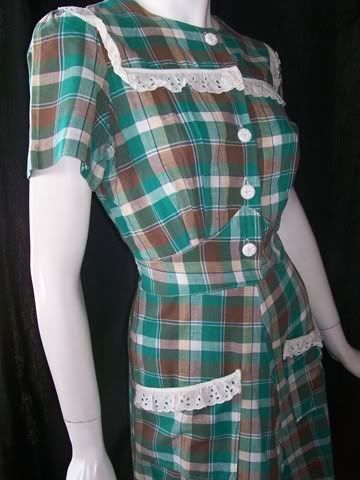 40s larger size rayon with Victorian men & women in silhouette, a few minor flaws but easily worn despite them!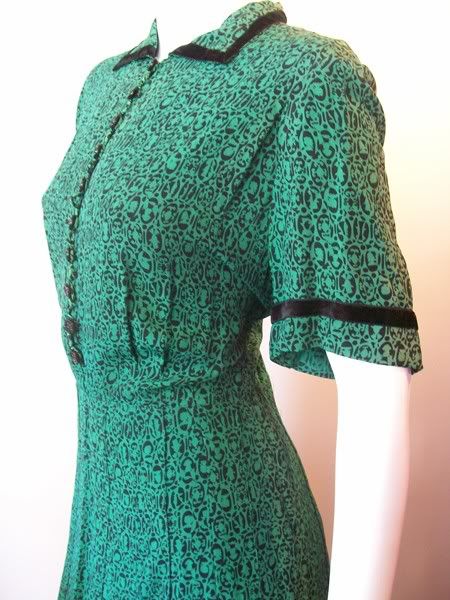 And a fun late 40s sundress with purple rose print, velvet bows and rhinestones!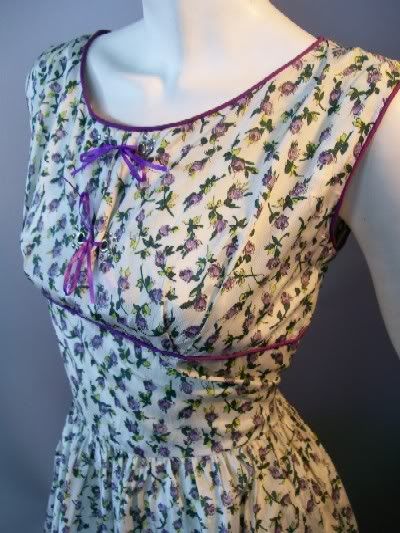 A few 50s dresses....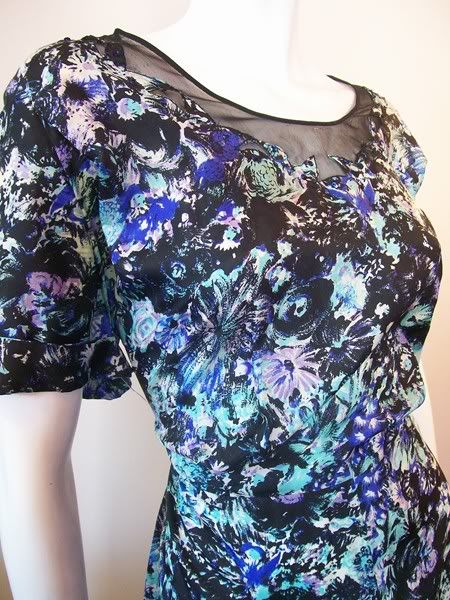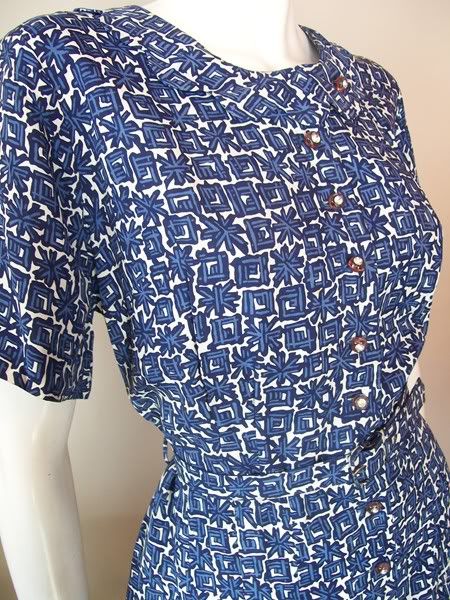 From the 60s, page 2....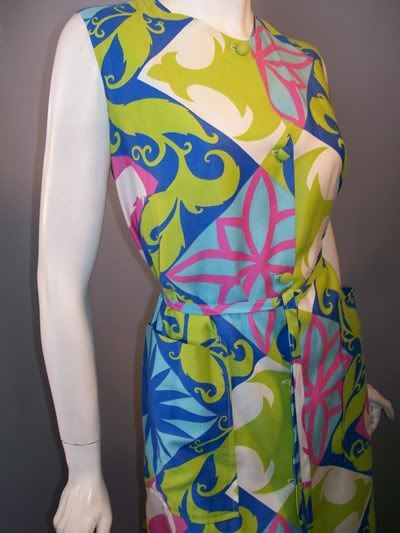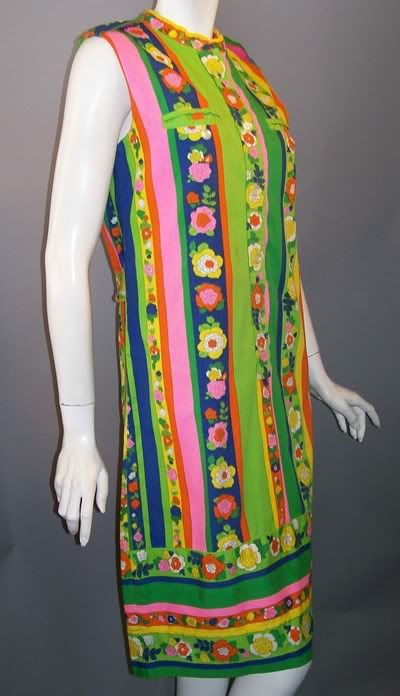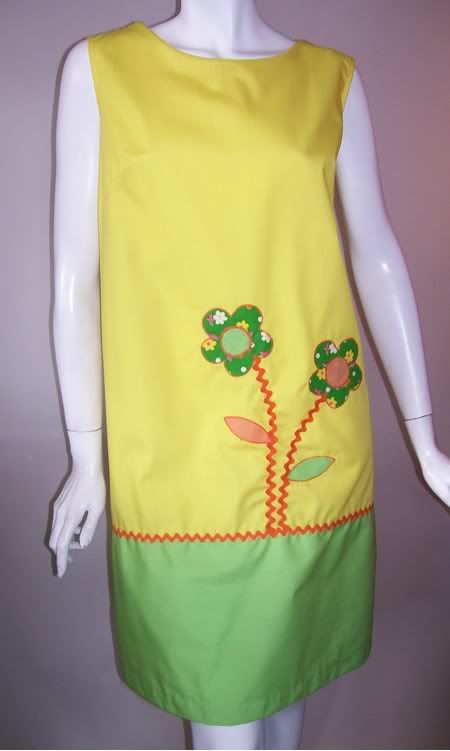 Join our NEWSLETTER LIST to get an email (maybe 2, if I'm ambitious) a week with updates on new items, news, sales and more from the website.
~Ang
Posted by

Dorothea's Closet Vintage
at 6/30/2009 08:56:00 PM
0 comments


Monday, June 29, 2009
Penelopepup's Vintage just opened a new Etsy shop!
I hope you'll stop by and check us out. Here's a just a few of our new items...
60s black chiffon & rhinestones party dress
size S
70s smokey blue deer & bird print top
size M-L
80s painted velvet bolero jacket
size L
80s strapless black nylon lounge jumpsuit
size S-M
I'll be adding new items weekly! Check us out at
penelopepupsvintage.etsy.com
!
Posted by

Jen @ Penelopepup's
at 6/29/2009 10:08:00 PM
0 comments


No not a political cover-up but a swimsuit cover up. From almost the beginning of swimsuit's there have been swimsuit covers. Part for modesty, part for sun protection and part just because it made a prettier presentation.



Here are just a few actual cover ups that I have found. Some are the actual garment and some are Magazine articles and advertisements and there are even a couple of patterns for you to make your own swimsuit and cover-up.



This little organdy skirt is featured in a 1951 Holiday Magazine article 5 page Fashion spread from 1951 showing the latest in bathing suit fashions. Designers included are Tina Leser, Carolyn Schnurer, Annis Originals, Sea Nymph, Caltex, Bestlyne, Cole of California, Rose Marie Reid, Jantzen, Mabs of Hollywood, Sacony and Gantner.




Men also had their Matching sets often called Cabana Sets. Colorful vintage McGregor sportswear ad from 1948. Ad shows several different styles of sportswear for men and promotes "Sun Sets" a brilliant new color achievement in teamed water suits.





Fun Novelty Print Vintage 50s Swimsuit Cover-Up From The Lucite Box



This cotton swim cover-up is so adorable. It's from the 50s and features a print of moustached bathers, lady sunbathers and beach umbrellas. (We like the old-timey swimwear these characters from 1915 are wearing.) The short little jacket is lined in white terry cloth and has two slash pockets. It's got a cute sailor collar. It slides over your swimsuit easily as there are no closures. It looks like this has seldom if ever been worn.




Beach dress in two lengths, two piece bathing suit & hat. The sleeveless beach dress tied at shoulders is gathered to yoke and has lowered round neckline and optional purchased belt. View 1 is regular length. View 2 is above knee length. Lined, two piece bathing suit has bra top with back button closing, and shorts with elastic waistline and leg casings. The lined hat has a large brim that may be worn turned back! 1967





Back buttoned bra, dart fitted pants or shorts with center back zipper, and sleeveless, seven panel princess dress or top buttoned at back. Bra is interfaced and faced with self fabric. Back opening of dress or top and pants or shorts waistband are interfaced. Dress has applied bow at top of vent in left front seam. 1965


Vintage 70's Bright DeWeese Design Blouse Cover-up S From Glamoursurf
Vintage 70's DeWeese Design Bright print blouse top swimsuit coverup beachwear, size Small. This most likely had a matching swimsuit at one point. Nice bright all over print in shades of pink, orange, goldenrod, lavender and rust. Self fabric covered button front closure. Shirt cover up is in excellent vintage condition. No fiber content tags, we believe this to be a nylon spandex blend.
Vintage 1940s Blue Coral Terry Cloth Beach Bolero Cape
Vintage 1940s Mustard Yellow Chenille Beach Cape Large
Vintage 1940s Chenille Beach Cape w Fish Medium
Newspaper Archives show ads in 6/1939 and 8/1939. $1.95 - 5.95 Polly Prentiss beachwear 1/4 off! Tufted chenille jackets, capes, boleros and long beach coats.
And this one is a BEAUTY! 3 little fish blow bubbles over waves of the ocean.
Posted by

Rita Holcomb
at 6/29/2009 12:00:00 PM
0 comments