Hi, everyone -
Lots of changes happening around here, some to be announced at a later date, and it's all good. I just sold this
wonderful
dress to an aspiring violinist: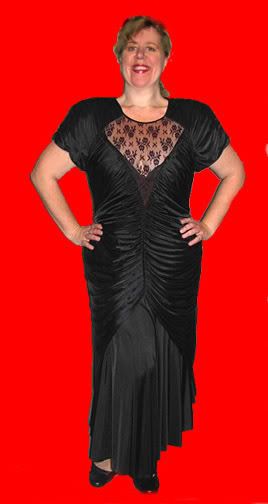 The reason this means a lot to me is that I come from a musical family; my
mother
is a cellist, still playing in an orchestra in her 80s; my late
father
loved opera, and my
older sister
is an amateur violinist (but mighty good). I rebelled by not playing an instrument, although I did have a brief go at the drums when I was asked to play a drunken
Keith Moon
-style drummer in a never-finished music doc parody (a sort of female "
Spinal Tap
"). I'd love to do it again except my landlord, my husband and my dog would all throw me out.
Meanwhile, over at
Elisa's Bodacious House of Style
on Ebay, I have some choice goodies listed. For instance, this alpaca coat with huge matching buttons, and real pastel mink wedding ring collar and cuffs, XL:
This Deadstock with tags fancy blue embroidered floral dress, L/XL:
An
amazing
1920s silk velvet and satin flapper dress with the original jet buttons, great condition, size XXXL:
For your nights out, this stunning white rhinestone necklace and earring set from the 1950s, in the original box!
Or if you're the funky type, try this faux amber and black bead chunky necklace.
Also listed, this gorgeous checkerboard
Christian Dior
compact.
Hope you'll come take a look soon!
http://stores.ebay.com/Elisas-Bodacious-House-of-Style
Happy New Year,
Elisa aka hoardmeister aka The Mad Fashionista