The Manhattan Vintage Show
must contain the most mind-boggling collection of vintage...well...EVERYTHING under one roof that I have ever seen. After two visits as a spectator, and two times as a dealer, I still experience intense sensory overload every time I walk around the
Metropolitan Pavilion
. Imagine 85 booths filled with designer goods you often only see in museums! Well, not all of them are that caliber, but you won't find flea-market goods there. You will find
Adrian
,
Patou
,
Chanel
, and many more. The textile booths are also amazing, with antique velvets, tapestries, and other luscious fabrics. I was so busy working my booth,
The Mad Fashionista's Plus Size Boutique
, I did not get to see as much as I wanted to see. But suffice to say that at the entrance to the Pavilion was a seller who only sells Mint Condition
Louis Vuitton
goods, including dozens of steamer trunks! It was truly a mouth-watering display.
This time around, I was the ONLY plus-sized vintage seller, and I had my A-list vintage out: an
Oscar de la Renta
silk gazar robe,
Gucci
travel bag and overcoat,
Louis Vuitton
Speedy bags, a recently cleaned vintage mink ski jacket, and silk kimonos from the 1930s and 1940s. It was fascinating how few designers and dealers knew that a) plus sized vintage existed and b) it could be such good quality.
In these turbulent economic times, the big-ticket items didn't sell, but plenty of others did, for instance:
This beautiful 1930s evening clutch coat
SOLD
Of all things, this Kayser lounger with assymetrical zipper!
This vintage 60s gold silk dress:
SOLD
And despite the terrible pre-steaming photo, this 60s beaded and sequined gold dress: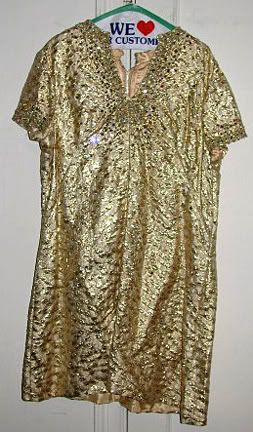 Finally, this beautiful Gucci travel bag, with the original sales tag, lock and key!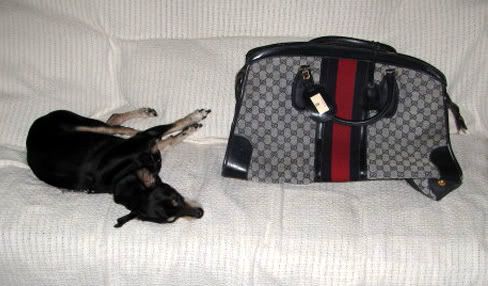 Don't worry, there are plenty of other purses for Bucky to sleep next to!
For more great stuff, check out my store
http://www.madfashionista.com/
.
Elisa