Hi, Everybody -

My virtual twin, The Mad Fashionista, had this to post yesterday on her blog, and rather than repeat the information, I thought I would let her tell you. (Don't mind her attitude, she's just that way.)

DAHLINGS –
Brace yourselves! There is
exciting
news today!
I AM RETURNING IN TRIUMPH TO
THE MANHATTAN VINTAGE SHOW
IN NEW YORK CITY, FRIDAY AND SATURDAY, OCTOBER 10 & 11!
Stupéfier, non?
Yes, your faithful correspondent is happy to announce that she is once again working alongside
MATINEE NEW YORK
, the
premiere
source of men's and women's vintage clothing supplied to the film and theater industry, and owner of one of the largest collections of men's vintage in the known universe. Of course, I only associate with the
best
people.
But you knew that. That's why you are reading this on the Internet instead of lounging in my sitting room.
Be that as it may:
Racks and display tables shall be bulging with my
mâchoire-chute beau
PLUS-SIZE vintage, from the 1930s to the 1980s! Through hours of ceaseless toil (well, my assistant's ceaseless toil, anyway) the finest of my collection has been chosen and readied for your delectation. And not only clothing, but jewelry and accessories!
Here is just a tiny taste of what is in store!
Going back into the past to the 1920s, feast your eyes on this pure silk jet-black flapper dress of charmeuse and velvet, with the original jet buttons, size XXXL!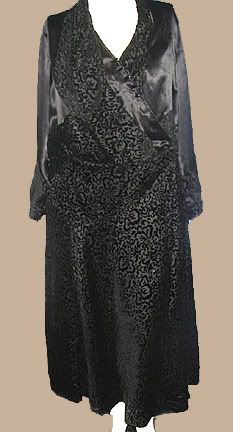 This sophisticated 1950s plunge-neck black wool suit, with its perfect v-neck mink collar, XL!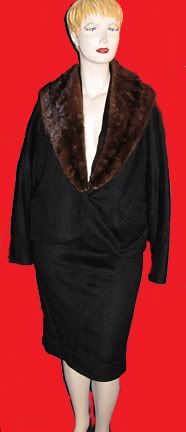 And now that the 80s are again becoming popular, this probably Victor Costa green velvet and crepe pleated sleeve long gown! Size 18: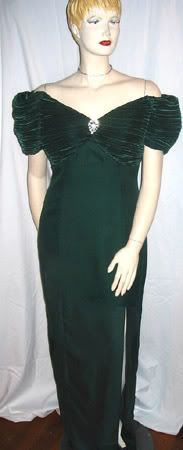 As for accessories, here are three compacts, including one by Limoges: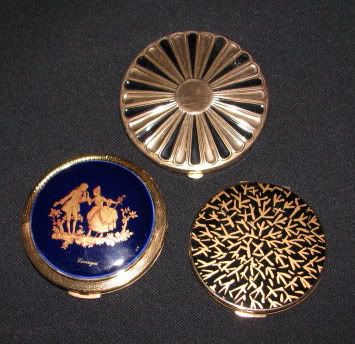 I shall continue these previews right up until the big day, dahlings! And I hope to see you there!
The Manhattan Vintage Show
at the Metropolitan Pavilion
Booth #18 MATINEE NEW YORK & THE MAD FASHIONISTA
125 W.18th Street, between 6th and 7th Avenues in Chelsea
New York City
Friday: 10/10 1-8 pm
Saturday: 10/11 11am-6pm
Admission: $20*
I shall continue to tease you with more lovelies to come!
Ciao!
Elisa & Bucky The Wonderdog
* However, if you go to www.manhattanvintage.com, you can click on a link to save $5 off admission. But don't let anyone know you heard it from
moi.