I have been intending to post here for ages. You know what the road to hades is paved with, right? Anyway, I put this on my blog and I feel so hot and dumpy today that I thought I'd post it here because I'm actually pretty proud of myself for my ability to make up a new word. Enjoy and stay cool...
You probably read about the fauxlero on
A Dress a Day
. It's a brilliant yet simple design detail that we see fairly frequently on vintage dresses. What's not to love about a little jacket that simulates a bolero but doesn't come off of the dress? Real boleros are so 1954, after all. Wait, fauxleros are also around at that time, too.
I'm coining a new word that's related to the fauxlero. I think it would be a major coup if I could find a dress that has not just a fauxlero, but also a
fauxverskirt
This cherry red faille 50s dress
lacks the requisite fauxlero, but it does have some mighty fine fin-like seams on the shoulders. (By the way, if you love pockets, these are fabulous. They fold back into huge points.) Check out the detail I'm talking about--the
fauxverskirt
. See? It's a full skirt that pretends to have a skirt over it.
The difference between a fauxverskirt and an overskirt is sometimes pretty subtle. Here's a dress that's got an overskirt that's not fake.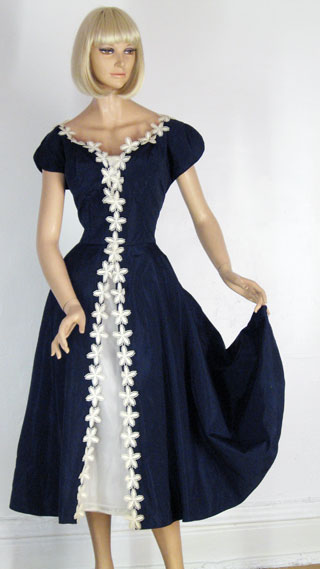 Regular readers of A Dress a Day are championing a Wear Your Fauxlero Day. You can bet that I'll be there if (or should I say when?) I find the perfect specimen. Oh, and in case you're wondering, I believe it was Deirdre who coined the term fauxlero in the comments section on Erin's blog here. It's a great word, isn't it?
If you find any fauxverskirts, I'd love to see them. Bonus points for fauxleros with fauxverskirts.
Edited to add: Perhaps not a true fauxverskirt, but certainly a demi-fauxverskirt--this one is offered right now on eBay by Jumblelaya. You can click the photo to see the details on this dress.
Another fauxverskirt--this one has a corset style waist. The item is available at Magsrags. Technically, it's not a true fauxverskirt. Perhaps we could call this fauxchos? Fauxskort? I don't know what to call it, but it's actually a split skirt from the 60s. The photo is clickable if you want to see more details or buy it.