Hi -
First of all, I would like to thank
Dandelion Vintage
for providing a place to write about the experience of buying and selling vintage! I love reading everyone's posts and looking at the beautiful clothes.
Often I buy stuff in lots, or I'm given stuff in lots. Occasionally I buy costume jewelry lots if I like what I see. I'm not exactly sure where this ring came from, only that I thought of it as "the trinket ring" and figured it was vintage, with rhinestones:
It had a spacer in it (one of those things that makes a large ring fit a smaller finger). It sat around for a year or two, until I was taking jewelry for an appraisal before I did the
Manhattan Vintage & Textile Trade Show
in April. I tossed the ring into a bag along with a number of finer pieces (I
thought
).
So I think you can imagine my astonishment after the jeweler, a high-end dealer in a good neighborhood, removed the spacer, looked the ring over, and said, "This is 14 karat white gold with old European cut diamonds. It's probably the most valuable piece you have."
Mind you, this was also with an estate lot with genuine pearl and gold rings, vintage diamond and onyx rings, vintage gemstone pieces, etc. Just to be sure, I took it to another jeweler, who confirmed what the first jeweler had said! And I can't even remember where it came from!*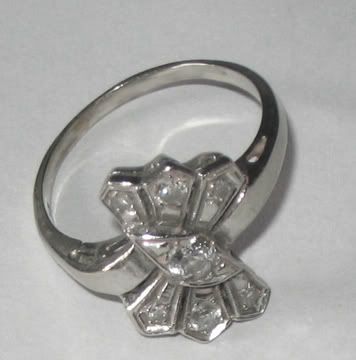 I went on the Ebay Fine Jewelry Discussion Board, and was quickly peppered with questions and advice, all from helpful veteran jewel sellers. I had no idea how to describe it, and they gave me the terms: bead-set, bow ring, etc. It didn't sell at the
Vintage Show
(although quite a bit of costume jewelry did). The Fine Jewelry moderator over at
Specialist Auctions
, who also sells on Ebay under the ID
Two Crazy Girls
, had her jeweler appraise it for $1040. So I put the ring on Ebay for a Fixed Price with a Best Offer option.
AND IT SOLD!
Mama's gonna buy a pair of new 11WW shoes! (Actually, Mama's gonna pay her health insurance bill, but it doesn't sound as swanky.)
For more fine and costume jewelry, check out my Ebay store,
Elisa's Bodacious House of Style.
And the
Mad Fashionista's Plus Size Boutique
, of course.
ADDENDA:
I know that on this blog, if you can't say something nice, don't say anything at all, which is an
excellent
policy. Especially for a loose cannon like myself. However, if you go over to my blog,
"Diary Of A Mad Fashionista,"
I think you will really enjoy my latest entry, "When Vintage Sellers Think They Are Rachel Zoe." Rachel Zoe is a Hollywood stylist whose trademark is anorexia (think Kristin Johnson's new look, Lindsay Lohan, the Olsen Twins). I won't say more; you'll have to read the blog. :)
Thanks for reading, and here's to lots of green for everyone!
Best,
Elisa aka Hoardmeister
*
Not remembering where something came from could be said for about half of my inventory.